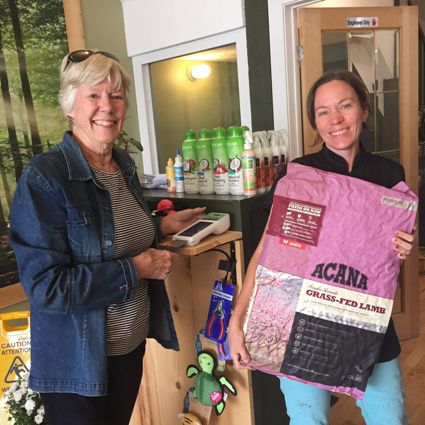 At Full Paw'tential Pet Grooming, we offer a unique selection of dog and cat supplies, including grooming tools, shampoo, ear cleaner, treats, toys, locally handmade accessories, and Acana and Orijen food.
We choose to carry Canadian brands Acana and Orijen due to their high quality, nutritious, biologically appropriate diets for dogs and cats. Acana and Orijen are made with human grade poultry, fish, or meat sourced from Canadian farmers and fishers. These diets are made in Champion Petfoods' award-winning kitchens, with 50-100% fresh protein, depending on the diet you choose for your pet's life stage.
Are you wondering how to brush your dog or clean your cat's ears? If you have any questions about our products, feel free to ask for a demonstration from one of our staff.
We have carefully selected our toys with your pet and the environment in mind. (For example, the Wunderball–these unpredictable bouncing balls are made from natural products, are virtually indestructible, and float!)
We also ensure fair pricing, and are happy to discuss matching a competitor's rate for our retail products.
Feel free to contact us to preorder your food!